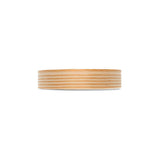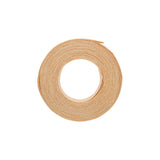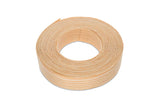 Edgebanding Supply
PINE PRE-GLUED IRON ON WOOD VENEER EDGE BANDING
Introducing The WoodPress Range of Quality Real Wood Veneer Edging
Also known as veneer edge banding or wood veneer edging tape, each professionally made roll is fleeced with a non-woven fabric and sanded for a perfectly smooth surface.
Easy DIY Edging Repairs
The edging is pre-applied with glue using a special 'hot-melt' formula, which is activated using a normal household iron on a medium heat. The edging is easily applied by ironing on and then trimming away any excess. No specialist skills are required.
This retail standard length roll of 25ft (7.5m) will cover the linear edge of a standard 8ft x 4ft (2440mm x 1220mm) MDF panel.
Repair All Household Edges
The real wood edging is designed to finish or repair edges on a variety of household panels, such as cabinets, shelves, kitchen units, kitchen surfaces, internal doors, tables, picture frames, drawers, pianos, wooden toys, etc. The product is particularly useful for repairs to items similar to Ikea furniture and Ikea shelving.
Finish as Desired
At WoodPress we are proud to offer a large variety of real wood veneers to ensure all manner of wood surfaces can be repaired to a joinery specification. This edging is ready for professional finishing by staining, varnishing, or waxing.
Legal Disclaimer
WoodPress and its associated company offer guidance and application instruction to the tradesman and DIY enthusiast alike on an advisory basis only. We are unable to take responsibility for the outcome of any work undertaken using our edging products, nor can we be held responsible for any injury sustained during working with our products. Should you have any concern about using our products, please contact us prior to use. Please note WoodPress products are not endorsed by Ikea. WoodPress edging is designed for indoor use. All WoodPress veneers are responsibly sourced from environmentally friendly forests.