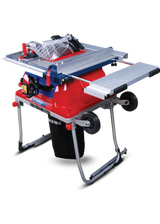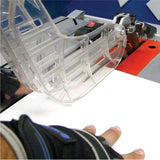 Edgebanding Supply
Portable Table Saw
The Portable Table Saw SC.650.I MAKSIWA was designed to work with 10" and can cut wood and acrylic must use the proper blade for each service. 2 Year Warranty.
• Motor of 1500W: High power for all applications.
• Tilt Blade: 0º to 45º.
• Side Guide of aluminium: Ensuring control and accuracy. 
• Laser Guide: Providing high precision cuts.
• Sliding table: Provides the squaring function to straight or angled cuts.
• Work area and firmness: Die casting table and extenders.
SC.650.I was design with wheels and retractable legs, ideal to move and carry anywhere.
Blade diameter: 10"
Table dimensions: 32-1/2" x 19-3/4"
Blade tilt: 45º left
Laser guide: Yes
Max. working height 45º: 2-1/8"
Max. working height 90º: 3-1/8"
Sliding table track: 14"
Speed: 5,000 RPM
Motor: 1 phase
Volts/Amps: 127 V - 11.8 A or 220 V - 6.8 A
Weight: 77 Lbs